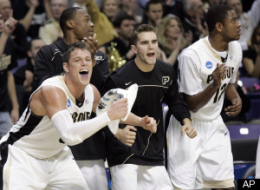 The Purdue Boilermakers have been like that girl we all knew in high school who was slightly pretty, but concentrated on her grades and dressed in dowdy clothes, so was largely ignored.
Picture if that girl got into a disfiguring car accident that gave all the popular kids full excuse to abuse and ostracize her for the rest of her days. Robbie Hummel's ACL tear = car accident in this metaphor.
Suddenly, Purdue's 27-5 record didn't happen. The share of the Big Ten title didn't happen. That was some other team doing all that work, and this team that was left was worthless.
Now, the sexy upset pick, the Siena Saints, have been sent home
72-64
by the team who was supposed to be incapable of scoring against a group of over-40 church leaguers.
Like the undead in a George Romero movie, the Boilers were buried a little prematurely, and now they're hungry. And angry.
E'Twaun Moore had a rough 5-15 shooting game, but the usually worthless Keaton Grant propped him up with three second-half bombs, helping the Boilers get an early-second-half 15-point lead and force Siena to dig their way out of a big hole.
Lewis Jackson put up some nice crooked numbers, recording eight points, six rebounds (impressive for a 5'7" waterbug), and seven assists, plus hitting two huge free throws in the last minute.
Of course, there's also JaJuan Johnson. 23 points, 15 rebounds, three blocks. My 4 Quarters Radio guest this past week, Jameson Fleming, spent a good deal of time telling us how Ryan Rossiter could handle JJ. Um...yeah, not so much. Rossiter wasn't bad himself, recording 10 and 12, but JJ made himself at home.
Chris Kramer was doing all the grunt work that he's made his name on, from taking steals to the house for massive dunks to forcing jump balls to forcing terrible shots, and he added 10 points to boot.
Now, all the analysts have to backpedal and try to invent ways to spin this result as Purdue coming into some luck or catching Siena on an off day or some other garbage to avoid admitting one incontrovertible truth: They were wrong.
My last post actually generated an e-mail response from the titular Mike DeCourcy himself, which I enjoyed tremendously. I have faith that he'll actually man up and let us know that he underestimated the Boilers, and possibly learned something that he didn't know before.
Not expecting similar candor from anyone affiliated with the Worldwide Leader, though.
Ted Miller
may have just gotten himself canned with a halfway positive post.
Purdue lost an important body part when Hummel went down, but the heart is still beating a mile a minute. The team's not dead, much as most might want them to be. They may still just eat your brains on general principle, though.