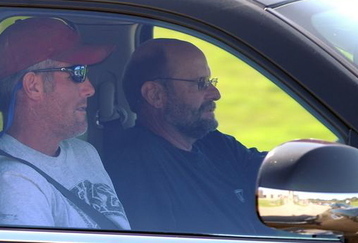 There are some NFL coaches who can summon enough fire and brimstone to keep even their future Hall of Fame players in line.
Brad Childress is apparently not one of them.
His players are apparently calling his halftime tirades
"laughable"
after his (or should it be Brett Favre's?) offense managed only seven points against the (then) 5-8 Carolina Panthers.
He can't get Favre to come out of the game. And this isn't just a one-time discussion. It happened against Green Bay (see next paragraph) and also against
Detroit
.
He can't even get Favre to stop
changing from running plays
to taking masturbatory heaves downfield with a 10-point lead, 3:27 left in the game, and an opponent who's out of time-outs. Clock Management 101, meet Trying to Stick It In My Old Team's Eye.
Apparently, Chilly can't even keep Brett from running his yap after the game, letting loose comments that provoke the chuckleworthy visual of Childress screaming at his assistant coaches
clad only in a towel
.
Even after all of this, Childress is running around like a madman, trying to stick gum in the cracks of the dam. He wants to let everyone know that he would NEVER consider pulling Brett, it was just an idea. Is he trying to convince the media, himself...or Brett? Bottom line is, you don't come to a player, ANY player, with the
idea
that "Hey, it's only a one-point game, but I think I need to take you out." Like anyone's gonna take that well?
If you're gonna pull somebody, pull them. Don't ask their permission, even if the guy is all over the league record books. Otherwise, it tells us something that we already knew:
It's not Adrian Peterson's team. It's not even Brad Childress's team. It's Brett Favre's team, and everyone else is just supporting cast. Favre made that perfectly clear when he brought the entire situation to light post-game.
I have one Favre-slurping friend (hint: he's in the 3FL and got married a few months ago) who, on the 3FL league message board, tried to give me grief about my
preseason predictions
for the Vikes. At the time, the Vikings were still strolling down the Cupcake Alley that passed for their early-season schedule. I will admit that I misfired on the record and the part about missing the playoffs.
However, note the stats from the losses to Arizona and Carolina. In those two games, Adrian Peterson had a total of 25 carries for 54 yards. Meanwhile, Favre threw 72 passes, only two for touchdowns and three getting picked. That part, I called.
I also called Childress having to make a
separate set of rules
for one player and losing control of the team in the process. Next time he wants to
bench Bryant McKinnie
(especially for something that Brad will take the bullet for anyway) who's to say that Bryant's going to listen? If Brett can overrule the coach on whether he plays or not, why can't McKinnie? In total, this has the potential to really get ugly for Chilly.
Last night, the New York Giants showed they weren't dead yet, and they play the Vikings in Week 17. Next week, the Vikings have the Bears, and the only hope for Bears fans is that Jay Cutler can actually step his game up to Matt Moore levels. (Yeah, that was an odd sentence.)
The point of looking ahead is that the Vikings are now only one game up on an Eagles team that is scoring on everyone. If they finish tied, the Eagles will take the bye based on conference record. That will stick Favre's 40-year-old carcass out there against playoff-level comp (possibly the Packers again, to the frenzied salivation of the Worldwide Leader) with no extra week off. That he may need rest at some point should be self-evident to anyone who's not an ego-driven, aging quarterback.
All that said, Favre's not the one most wrong here. If the coach is just "throwing out ideas" that you should come out of the game, you have every right to say that you think it's a stupid idea. If the coach doesn't have the pigskins to say "Sit your ass down," that's his problem. But if Favre gets hammered some more by the Bears or Giants and the offense is forced to change directions permanently, that's also Brad Childress's problem.
All because his "stream of consciousness" started running down his leg.