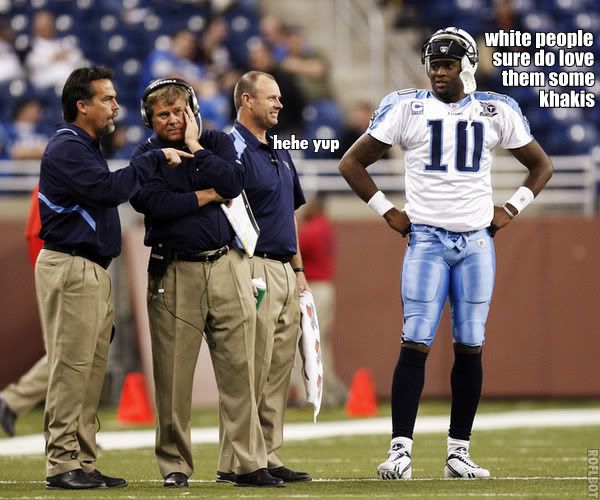 Let's do a small piece of blind taste-testing...er, except we're tasting quarterbacks. Eeeeew.
Anyway, grossness out of the way, here's the comparison:
Quarterback A:
21-12 (.636 winning percentage) as a starter over three seasons, 55.3 percent completions, 30 TD, 27 interceptions, 161 yards per game.
Quarterback B:
30-17 (.638) as starter over five seasons, 57.9 percent, 42 TD, 42 picks, 150 yards per game.
Neither set of numbers is exploding off the page, but one of these players still had local fans defending him to the death, while one was considered
among the worst QB's of all time
based off a hideous rookie season.
Given the fact that his 30-17 record as a starter has been trotted out ad nauseam as fans and analysts struggle to find good things to say about him, it should be no surprise that
Vince Young
is Quarterback B. As for Quarterback A?
This guy
. Kyle Orton, one of my ex-Purdue amigos, and quite obviously a veteran party hound. The numbers above are from his three seasons in Chicago, where he grew as a quarterback while one of the decade's best defenses toiled opposite him in practice.
At least he's never been
caught on video
beating some fool in a strip club, but that's a whole other story.
As an interesting coincidence, Orton spent the past two seasons churning out numbers after being traded to Denver for Jay Cutler, the guy who was selected eight spots behind Vince Young in the 2006 draft.
Nashville sports radio, as recently as October, still occasionally turned out mouth-breathers who would still claim that Young was the best of the three 2006 signal-callers (Matt Leinart, of course, being the third). Strangely, out of the three, only one is likely to have a starting job in 2011, and it ain't VY.
Cutler's not quite the franchise guy yet. Did he whine his way out of Denver? Yep. Is he arrogant?
You bet
.
One thing Jay's never been accused of, however, is being lazy. Leinart always seemed more interested in hot-tubbing, and Vince always seemed to think he could just show up and dominate. If I have to choose one of those traits in my franchise QB, I'm taking arrogance over laziness every time.
For all the (entirely justifiable) flak that Cutler caught for crying his way out of Denver, his towel is nowhere near as tear-stained as Vince Young's. Tossing shoulder pads into stands, freely admitting that you're walking out on your coach, disappearing after a game to the point that your coach and family are contacting authorities out of fear that you've harmed yourself? These are not the actions of a leader of men.
The win-loss record defense continues to chap me, as I am far from a card-carrying member of the Cult of the Quarterback. A quarterback's win-loss record is one of the most meaningless stats in all of sports.
Vince Young did not go 30-17. The Tennessee Titans went 30-17 in games that he started. Of course, in 2008, they went 13-2 in games that he didn't start. Yet, very little clamor has been heard for Kerry Collins to maintain a starting job.
The point of comparing Vince to Orton was that absolutely no one was giving Orton any credit for the games that the Bears won during his tenure. Vince always seemed to get a huge share of the credit for every victory, even the ones that were part of Chris Johnson blazing his way into the history books last year.
The sad part is that Vince Young appears to have
learned absolutely nothing
.
Comments from an
interview with Jim Wyatt
of the Tennesseean:
"People say that's immature, but that's just me." Good to know that one can admit to being immature. Isn't the first step admitting that you have a problem?
"Wherever I go I will be committed like I am committed to everything." Commitment was the biggest question that most people had about you, Vince.
Whatever Bud Adams heard in the postseason meetings that he's been having with Titans executives, there must have been some serious bombshells, creating shockwaves strong enough to remove Bud's head from VY's backside. It used to seem that it would take the Jaws of Life to get Bud out of there. Safe to say that a lot of people questioned Vince's maturity, commitment, and a lot of other things.
Now to kick back and listen to the mouthbreathers complain that it should have been Jeff Fisher getting canned. Calm down, fellas, who's to say that he won't?
Oh, and over/under on how long it takes
Jemele Hill
to write a column about how VY got canned because he's black: four days.